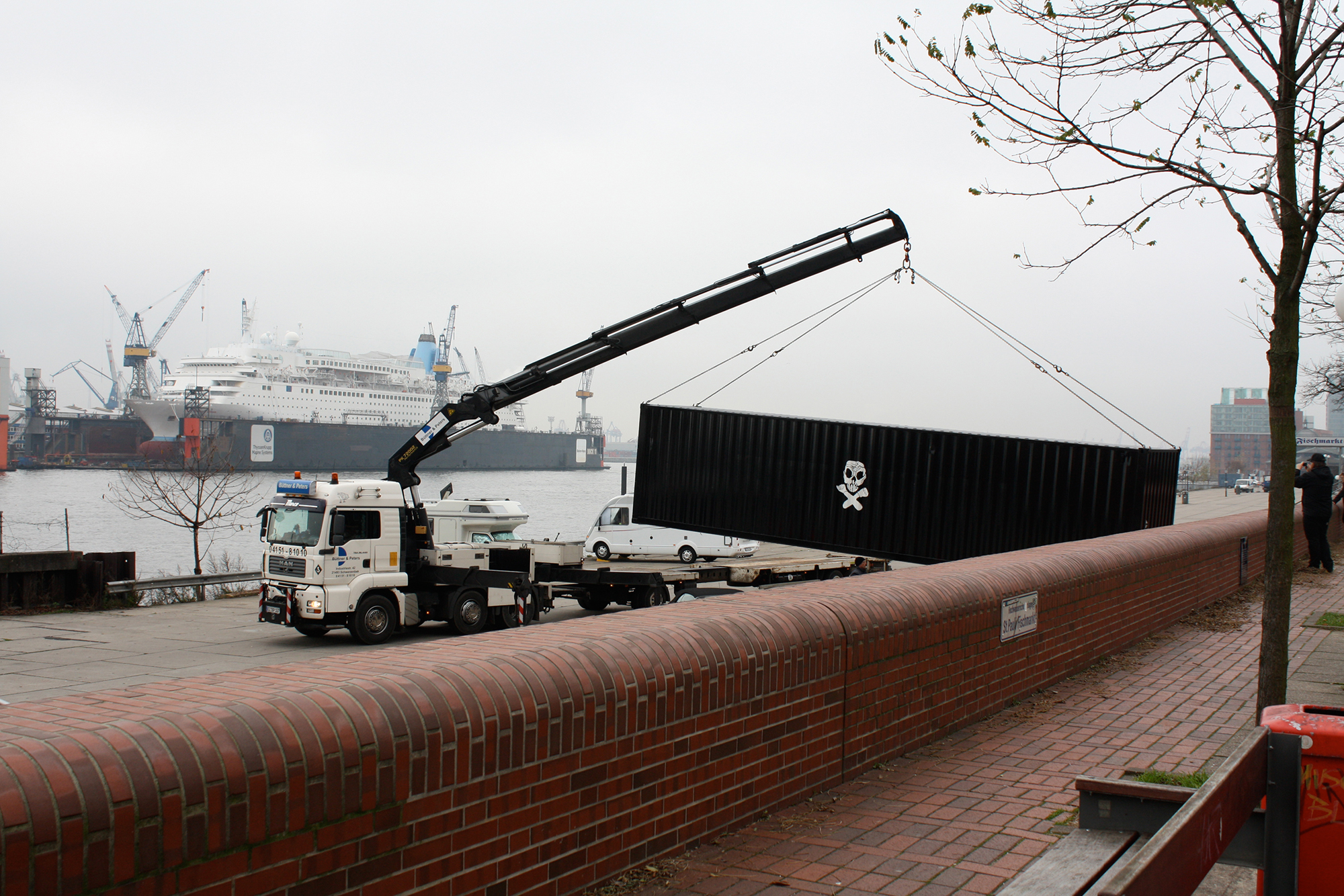 Fischmarkt / Kunstverein St. Pauli
In the year 2010 a high-cube overseas container was purchased, painted completely black and converted into an event space with a bar. Thus it functioned as a kind of "darkroom" and served as a meeting place and projection surface for fantasies. In the fall of 2010, the container was placed for two months not far from the former exhibition space at the Hamburg harbor on the fish market. Artists whose working methods can be conveyed appropriately "live" were invited to conceive an event for the container. The right light was developed by projections and lighting for each occasion. After the work of the first years in a very artificial part of the city and the premises of a private apartment was dedicated to the question of how to create an intimate setting for artistic productions and at the same time make it accessible to the public, we now wanted to face other problems without fixed premises and the previous routine: What happens to a structure that has been rehearsed and solidified over several years in relation to private and local facto-res when it is redefined and transplanted to confront other structures? What is the typically own? To what extent can the own be transported? What is the reciprocal effect of the own and the other?
The Kunstverein St. Pauli is an interdisciplinary group from the fields of art, design, horticulture, sociology and architecture, which was founded in 2006 in the form of an "OffSpace" of the Reeperbahn in St. Pauli. The dissolution of the exhibition space in 2009, as well as the group's agreement that an examination of art is necessary, especially in public space, has since led to the exploration of experimental new exhibition forms. In 2010, for example, an overseas container was acquired, which - initially set up at the fish market in St. Pauli - served as a venue for events. From 2011 to 2013, the container went on tour and was used as a working and presentation space for exhibitions in various locations in Germany and Europe. Since 2016, Kunstverein St. Pauli has organized "parking lot meetings," each of which invites several artists to realize their works in cars parked at changing locations. From 2019 to 2020, Kunstverein St. Pauli realized the artistic intervention "Cage Match" with several invited artists in the construction site at the Teehaus in the large Wallanlagen/Planten un Blomen in Hamburg. In September 2020, the Kunstverein will show the spatial intervention "World in Parts" on the Heiligengeistfeld in Hamburg.
Founding members: Christoph Bernecker, Felix Franz, Kai Kaste, Axel Loytved, Franziska Nast, Sebastian Rohrbeck, Tobias Scholz, Malte Struck
(…) The appropriation of an institutional form that is widespread in Germany, through the founding of an art association, is the basis for us to develop a critical format both towards established art institutions, as well as towards so-called off-spaces. The critique is not formulated from the outside, in a passive observer role, but from the practice. Our work is not a theoretical proposal for improvement, but an independent model that asks about the realities in which we want to live and work and how we can organize and invent ourselves within existing structures in order to show what seems important to us (…)