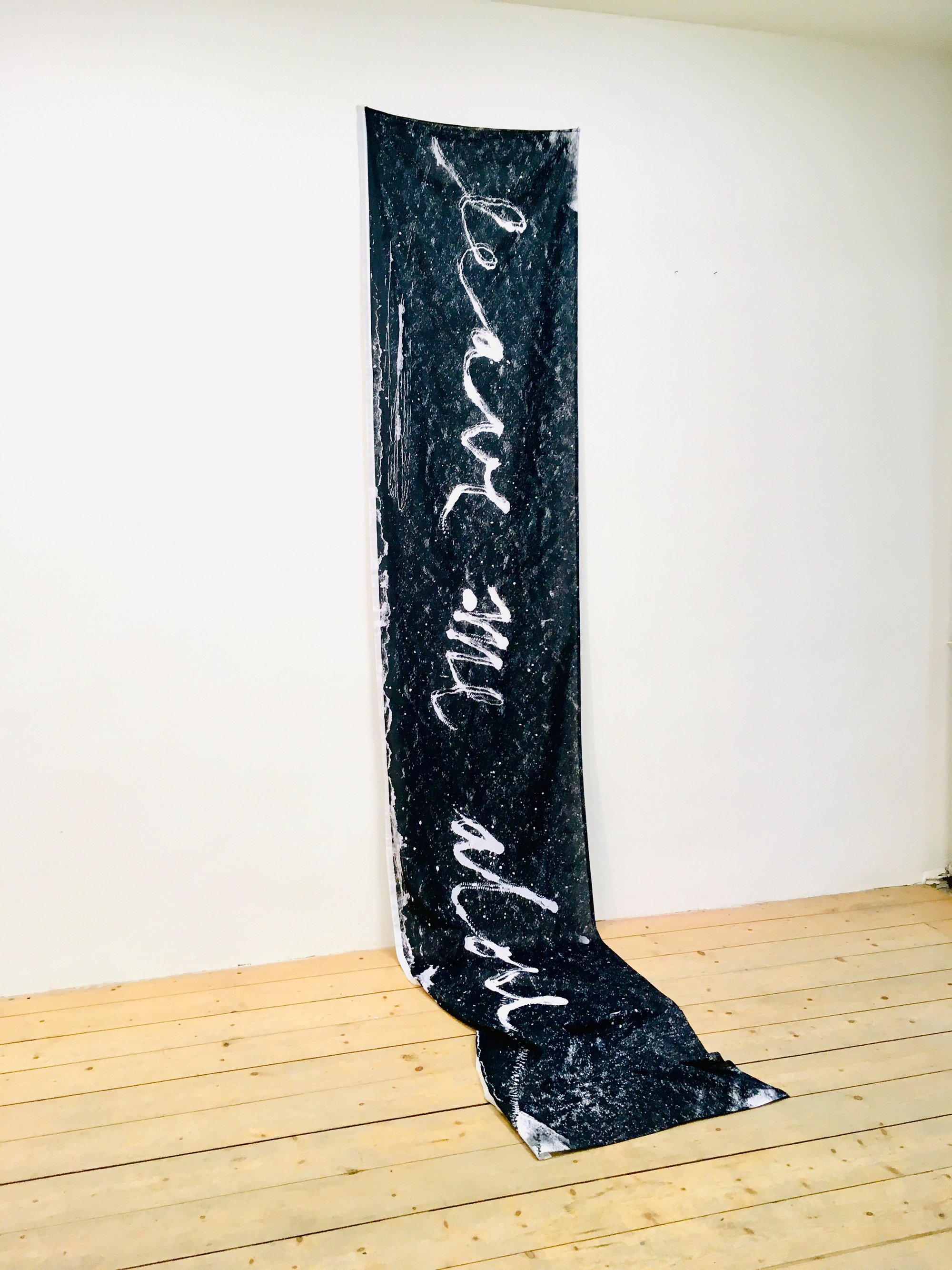 leave me alone
2020
MOM art space & Galerie Speckstraße, Hamburg
81 × 450 cm
Offset printing on 110 g flag fabric
Body Re-Divined?
Welche Körperlichkeit erzeugt(e) die Corona-Zeit?
Die Selbstverständlichkeit des physischen Daseins wurde in Zeiten der Pandemie zur Besonderheit, der auch weiter hohe Aufmerksamkeit zukommt. Welche Körperlichkeit erzeugt(e) die Corona-Zeit? Durch physische Distanzierung entstand ein neues Bewusstsein über den eigenen und die Körper der anderen. Im Rahmen gegebener Umstände, weiterhin zumeist in nationaler Abgrenzung, versorg(t)en Menschen sich und andere mit außergewöhnlicher Fürsorge. Unzählige Situationen geben Anlass, den Körper neu wahrzunehmen. Was sehen wir? Was fühlen wir? Gerieten unsere Überzeugungen ins Wanken?
Was ist intensiver geworden?
Die Ausstellung zeigt künstlerische Arbeiten, die diese Erfahrungen spiegeln.
/
The naturalness of physical existence became special in times of the pandemic, which continues to receive a lot of attention. What physicality does the corona crisis produce? Through physical distancing, a new awareness of oneself and the bodies of others arose. In the context of the given circumstances, mostly within national boundaries, people provide themselves and others with exceptional care. Countless situations give reason to perceive the body anew. What do we see? What do we feel Did our beliefs falter? What has become more intense?
The exhibition shows artistic works that reflect these experiences.
A group exhibition with: Franziska Nast, Clemencia Labin, Olivia von Pock, Claudia Reiche, Helene Oldenburg, Jutta Konjer, Cordula Ditz, Heiko Wommelsdorf, Nikita Kotilar, Dagmar Rauwald, MathiasTedjasukmana, Achim Schauffele, Jivan Frenster, Zonenkinder, Paul Gregor, Eythar Gubara, Sylvie Ringer, Maren Goldenbaum-Henkel, Inga Kruse, Benedikt Brockmann, Imke Lohmann, Bianca Hein & Ingrid Hölzl, Jaewon Kim, Simone Lietzkow und Patricia Feliu
With the kind support of the Behörde für Kultur und Medien