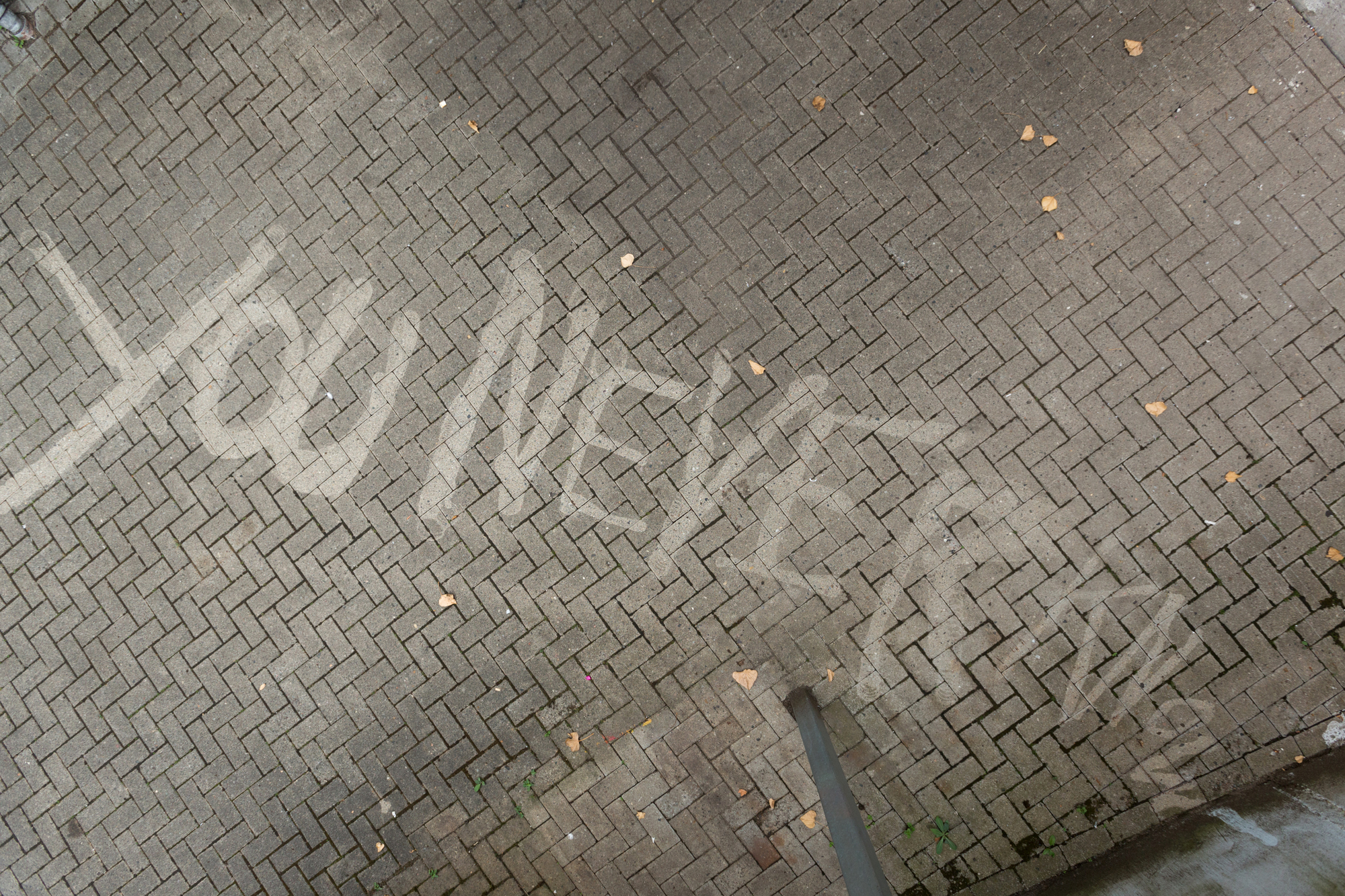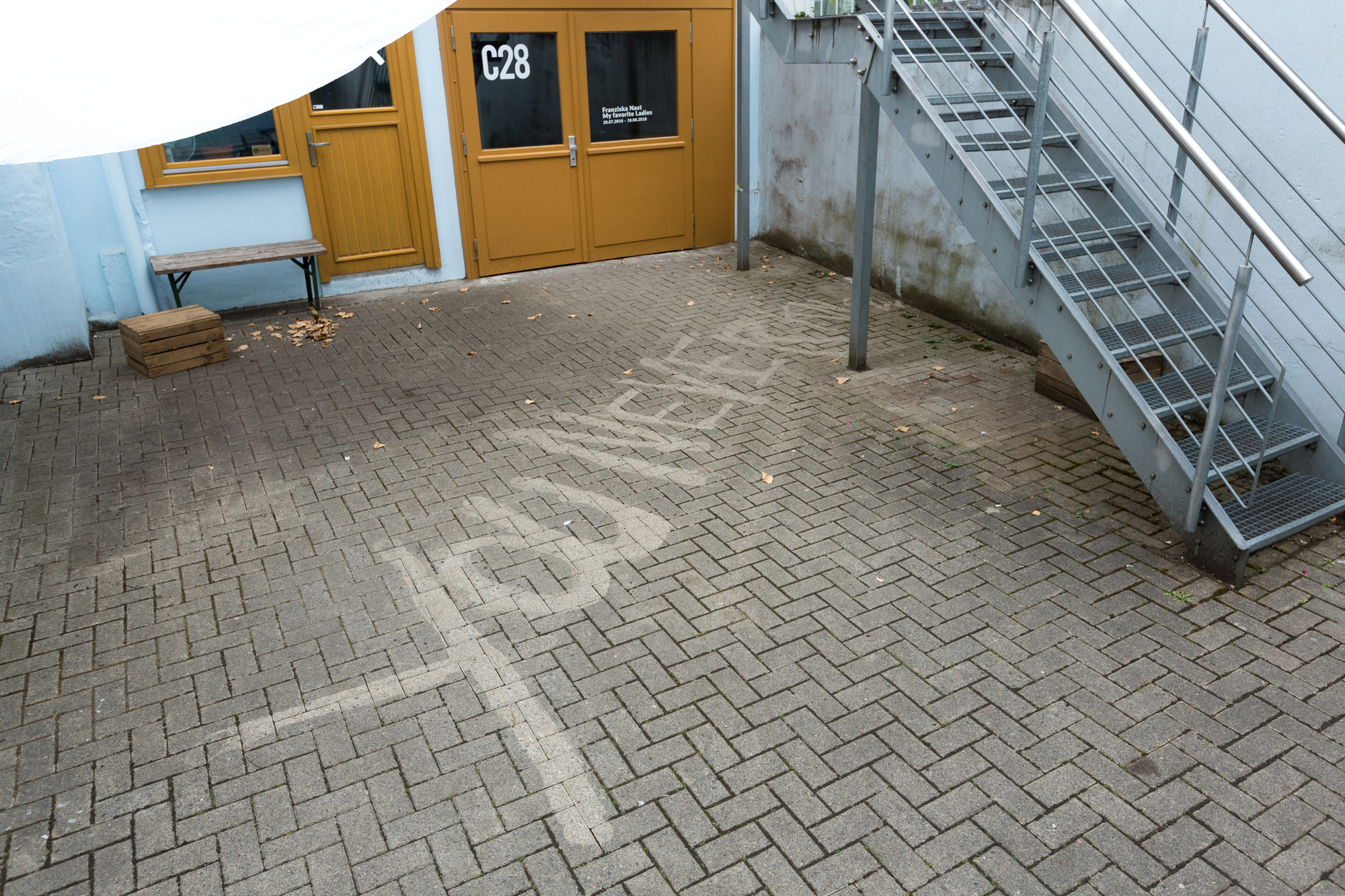 YOU NEVER KNOW
Hochdruckreinigerzeichnungen im öffentlichen Raum / High pressure cleaner drawings in public space, 2,50 × 6 m
Installationsansicht / Installation view »My favourite Ladies«, C28, Hannover, 2018
Mit Franziska Nast lädt der C28 | Kunstraum eine junge Künstlerin ein, die ihre vielschichtigen Arbeiten auf interessante Weise mit dem Ausstellungsraum spielen lässt.
Das Betreten ihrer künstlich geschaffenen Raumsituationen und das Betrachten ihrer Bildfolgen und tagebuchartigen Aufzeichnungen entführt uns in ein Labyrinth mit scheinbar eigenen Gesetzmäßigkeiten. Sonst nur subtil wahrnehmbare Phänomene des Alltags werden bei Nast isoliert und in ihrer Wirkung verstärkt. Die Künstlerin spielt mit der Macht der Vorstellungskraft und den vielfältigen subjektiven Assoziationen der BetrachterInnen.
Eigene und gefundene Bildfragmente, sowie Versatzstücke fremder oder auch selbstverfasster Texte fügen sich bei Nast zu einer raumgreifenden Installation, welche als äußerer Rahmen ihrer großen Erzählung fungiert. Bezeichnend für die Arbeiten von Franziska Nast ist dabei Ihr unprätentiöser Umgang mit den verwendeten Materialien und Motive, welche Sie auf poetische Weise zu einem ganz eigenen Narrativ verschmelzen lässt. 
Das Geheimnis des vielschichtigen Werks von Franziska Nast liegt in dem Zusammenspiel unterschiedlichster Techniken, Materialien und Formaten. Sie erzeugt ästhetische Gegensätze und balanciert ihr Werk gekonnt zwischen High und Low, Innen und Außen, Vergänglichkeit und Dauer, Traum und Wirklichkeit. Raumgreifende Installationen stehen kleinen Zeichnungen und Tätowierungen gegenüber und weisen scheinbar spielerisch über die traditionellen Grenzen der Kunst hinaus.
Franziska Nast lebt und arbeitet als Künstlerin und Buchgestalterin in Hamburg und ist Mitbegründerin des Kunstvereins St. Pauli.
Anlässlich der Ausstellung wird es zur Vernissage eine exklusive Edition geben.
Die Ausstellung wird gefördert aus Mitteln des Kulturbüros Hannover.
/
With Franziska Nast, the C28 | Kunstraum invites a young artist who lets her multilayered works play with the exhibition space in an interesting way.
Entering her artificially created spatial situations and viewing her sequences of images and diary-like recordings takes us into a labyrinth with seemingly its own laws. Phenomena of everyday life that are otherwise only subtly perceptible are isolated in Nast's work and amplified in their effect. The artist plays with the power of imagination and the manifold subjective associations of the viewer.
In Nast's work, fragments of her own and found images, as well as fragments of texts written by others or by herself, are combined to form an expansive installation that functions as the outer framework of her grand narrative. Characteristic for the works of Franziska Nast is her unpretentious handling of the materials and motifs used, which she poetically merges into a narrative all her own. 
The secret of Franziska Nast's multi-layered work lies in the interplay of the most diverse techniques, materials and formats. She creates aesthetic contrasts and skillfully balances her work between high and low, inside and outside, transience and duration, dream and reality. Spacious installations are juxtaposed with small drawings and tattoos, seemingly playfully pointing beyond the traditional boundaries of art.
 
Franziska Nast lives and works as an artist and book designer in Hamburg and is co-founder of the Kunstverein St. Pauli.
 
On the occasion of the exhibition there will be an exclusive edition at the vernissage.
 
The exhibition is supported by the Kulturbüro Hannover.
Translated with www.DeepL.com/Translator (free version)
more info: C28 | Kunstraum
Franziska Nast
My favorite Ladies
29.07.2018 – 18.08.2018
Vernissage 28.07.2018 – 18 Uhr